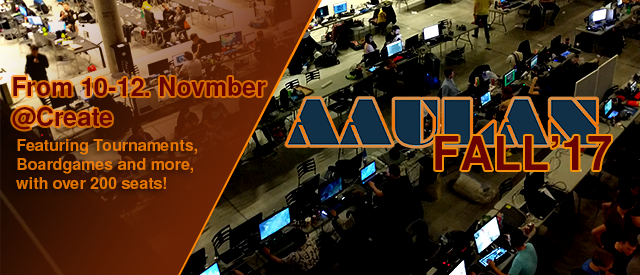 Join us and your fellow students for an epic weekend with gaming and fun, when AAULAN Fall'17 once again takes place in Create - this time from the 10th to 12th November!
AAULAN is back with yet another awesome event featuring plenty of gaming and tournaments, other fun competition and last but not least, plenty of great company.
If you're a member of Studentersamfundet, you get the ticket 25% cheaper! And if you're not a member yet, you can buy the other ticket that combines membership and AAULAN event into, getting you the rebate right on the spot.
Once you got your ticket and it's ID, you must go to http://aaulan.dk/auth/register to signup if you don't have an account, or log in if you do. Once logged in, you'll be able to book a seat by entering your ticket-ID at http://aaulan.dk/ticket/activate
You can find more information make sure to participate in the event on Facebook and give us a like https://www.facebook.com/events/129103121040710/
You can also join our AAULAN Discord server: https://discord.gg/9sJ3sBx